Kawasaki Ninja 400 – 2023
Nánari upplýsingar hjá sölumönnum.
Ath. Verð er háð gengi hverju sinni.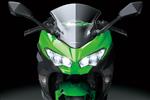 Twin LED Headlamps
In addition to contributing to the Ninja 400's sharper looks, slim LED headlamps (each featuring low and high beams, as well as a LED position lamp) are highly visible and offer significantly increased brightness.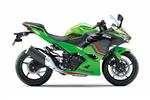 Relaxed, Sporty Riding Position
Relaxed rider triangle accommodates a wide range of rider sizes and riding situations. Compared to some other models (whose somewhat extreme riding position compromises comfort), the elevated handle position and slightly foot-forward footpeg position put the rider in a position to control the bike while also offering rider comfort.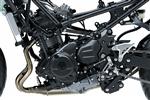 Powerful, Rider-Friendly Parallel Twin
The Ninja 400's 399 cm3 engine delivers a balance of performance and controllability. The engine offers increased performance at all rpm compared to its predecessor, with good power feeling. Smooth, predictable response contributes to an easy-to-control engine character. Thanks to its efficient design, the compact, lightweight engine has a size on par with 250cc engines.

Easy Reach to the Ground
While seat height is 785 mm, the slim design of both the seat and the rear of the engine gives riders an unobstructed line for their feet to reach the ground.

High-Grade Cockpit
The Ninja 400 is equipped with a sophisticated cockpit, featuring a large analogue tachometer flanked by warning lamps on one side, and a gear position indicator and multi-function LCD screen on the other.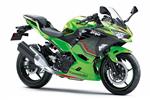 Sharp Ninja Styling
Head-turning looks have always been a forte of Ninja models, regardless of displacement. The new Ninja 400 boasts futuristic new Ninja styling inspired by the mighty Ninja H2. The largevolume bodywork attracts attention, and gives the impression of a larger machine. This impression is reinforced by the high-class design and superb fit and finish, which are comparable to bikes from a larger-displacement class.

Large-Diameter Front Brake Disc
Measuring ø310 mm (the same disc size used on the Ninja ZZR1400), the Ninja 400's semifloating front disc offers sure stopping power. A rigid new front brake master cylinder helps eliminate ineffective (idle) stroke, contributing to controllability, while carefully selected brake hose dimensions and material contribute to brake touch. Featuring the latest ABS unit from Nissin, the most compact and lightweight available.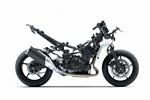 Lightweight Trellis Frame
The Ninja 400 features a trellis frame similar in design to that of the Ninja H2. Kawasaki's advanced dynamic rigidity analysis was used to ensure optimum rigidity with light weight. The engine is rigidmounted and used as a stressed member. The frame design contributes significantly to the bike's low curb mass.
Tæknilegar upplýsingar : Kawasaki Europe