Kawasaki Z650 – 2023
Nánari upplýsingar hjá sölumönnum.
Ath. Verð er háð gengi hverju sinni.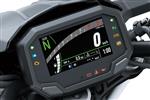 KTRC (Kawasaki TRaction Control)
Kawasaki's advanced traction control system provides both enhanced sport riding performance and the peace of mind under certain conditions to negotiate low-traction surfaces with confidence. Two modes allow riders to adjust settings to suit the riding situation and rider preference. Riders may also elect to turn the system OFF. For 35 kW kit models, KTRC offers one mode (plus OFF).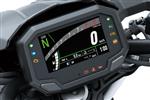 TFT Colour Instrumentation
The new alldigital TFT colour instrumentation – a Kawasaki first in the 650cc class – gives the cockpit a high-tech, highgrade appearance. The new meter also offers additional features unavailable on the previous model.

Cleaner Emissions
A number of changes to the intake and exhaust system components were made to ensure that Euro4 emissions regulations are cleared, and offer an increase in mid-range torque while maintaining the power of the previous model.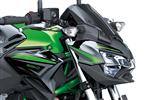 Sharper Headlamp Cowl
The headlamp cowl became sharper and more compact, with a two-piece design (distinct from that of the three-piece Z900 cowl) that positions coloured pieces higher to create a light image. The sharp chin spoiler, new meter cover, and more forward-slanting lines contribute to the sugomi design.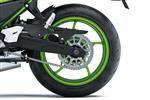 New Tyres: Lighter Handling
New Dunlop Sportmax Roadsport 2 tyres contribute to lighter handling.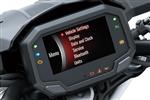 Smartphone Connectivity
A Bluetooth chip built into the instrument panel enables riders to connect to their motorcycle wirelessly. Using the smartphone application "RIDEOLOGY THE APP," a number of instrument functions can be accessed, contributing to an enhanced motorcycling experience.

Increased Passenger Comfort
Rear seat with thicker urethane (approximately 5 mm thicker at the centre, 10 mm thicker at the sides) and wider sides offers increased passenger comfort.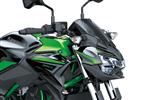 Stronger Sugomi Presence
With a sharper, more compact cowl and more muscular radiator shrouds, the new Z650 boasts a stronger sugomi presence.
Tæknilegar upplýsingar : Kawasaki Europe